Sharing Google Community Calendars
The calendar can be shared with an embed code. I can customize the content of the calendar to include only certain kinds of events. Here is the present list:

In this particular example, the calendar displayed would be only the New Haven Art Scene. These can be combined. What I imagine fits best for your organization, Lee, would be something like Public Events.
The LFOP Public Calendar is the Leitner Family Observatory, which already lists their events as a public Google calendar. The calendar is imported and then included in the embed display. If everyone kept a public Google calendar, it would be possible for the entire list to be self-generated.
This is the menu screen for selecting the embedded Calendar Features. I can customize the calendar to include any combination of content, in a variety of shapes and sizes (800x600px, in this particular example).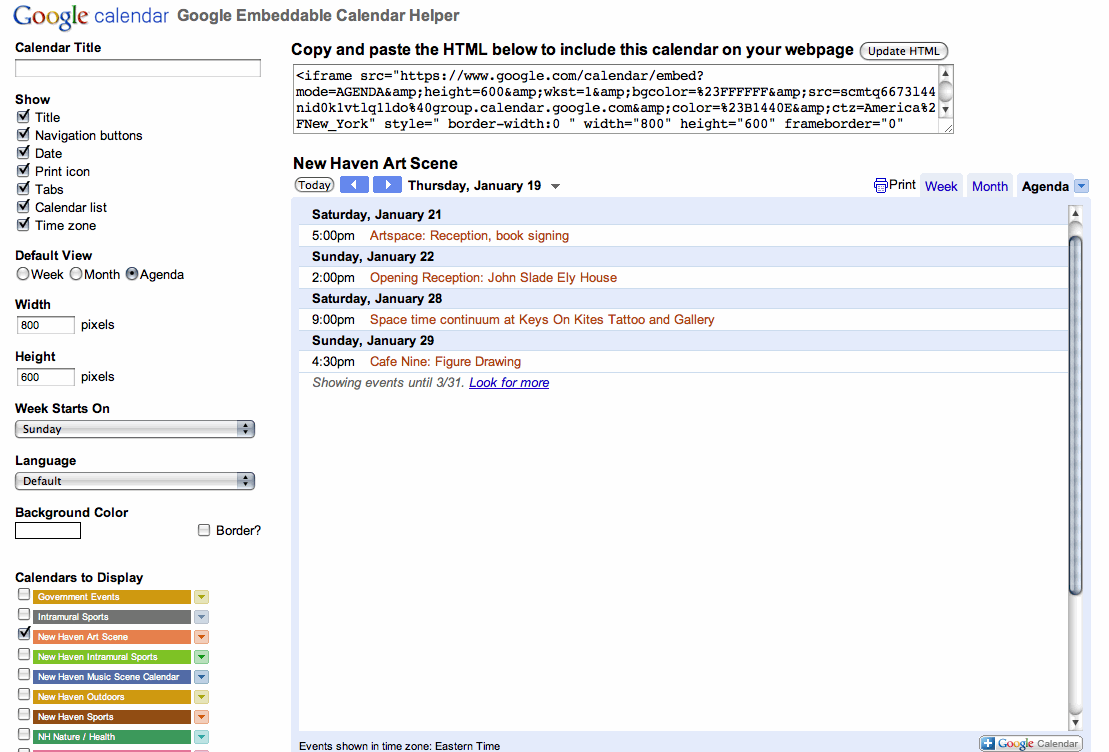 Other people can add events to your calendars. In this example, an event for an artist exhibition at a tattoo gallery was entered by a person named erik nicholas, who contacted me for permission to post about the events for that gallery on the art scene calendar.

You can add permission for anyone with a Gmail account to have access to post events onto your public calendars.

Here's an example of the screen for where you enter people that you would like to share access for those calendars. Pretty rad, huh?

You can even enter events into the public calendars via your smartphone! People can additionally receive automatic alarms on their cellphones if they wish to be notified and their google calendars are sync'ed with their phones, which many people's are.

This is what I plan to discuss with you when you visit the laboratory here in Wooster Square. I will make tea and I have comfty chairs and a projector wall for presentations.